DOG APPARELS (COATS & BOOTS):
Hooded Parkas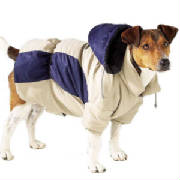 Little Kasia ready for the Cold Winter!
Suit dogs up for winter action in our warm and outdoorsy Casual Canine™ Hooded Parka. The perfect attire for cold and windy weather, our stylish Tan and Blue garment features a removable, snap-on hood with drawstring ties. Keeps dog's head and ears warm when out for winter walks. VelcroŽ closures, elasticized waist with adjustable tabs provide a secure and comfortable fit. Made of an easy-care blend of polyester and cotton. Hooded Parkas are available in the sizes listed below.
X-Small (up to 8")----------------------------------------------------------------$12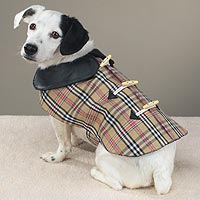 With its turndown, faux black leather collar and stately plaid design, this jacket will create a furor among the fashion-conscious customers. Toggle fastener accents on back provide authentic English style and VelcroŽ tabs at chest and belly offer a secure fit. Jackets are lined with black fleece for added warmth and comfort. Wipe clean with a damp cloth. London Plaid Jackets are available in the sizes listed below.
X-Small (up to 8")-------------------------------------------------------------------- $15
Medium (12"-16")-------------------------------------------------------------------- $17
Oxford Coat
Fabric:
Top:100% Wool Haringbone
Liner: Crepe
Collar: Faux Fur


Hand wash, dry flat.
Made in the USA
14" Oxford Coat-----------------------------------------(originally$37.00) ON SALE $18.50
Princess Lenore Coat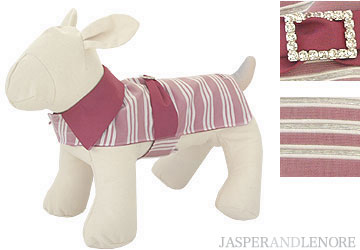 Fabric:
Top: Taffeta blend.
Liner: Taffeta.
Buckle: Rhinestones silver-plated.

Dry clean or spot wash, dry flat.
Made in the USA
14" Princess Lenore Coat-----------------------(originally $37.00) ON SALE $18.50
Windsor Coat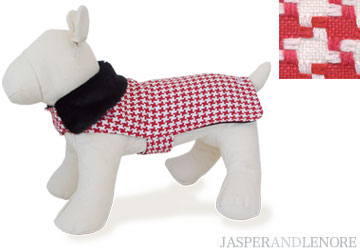 Fabric:
Top:Cotton Mix
Liner: Thick black anti pil fleece.
Collar: Faux mink fur


Hand wash, dry flat.
Made in the USA
14" Windsor Coat--------------------------------(originally $37.00) ON SALE $18.50