Planet Dog Large Travel Bowl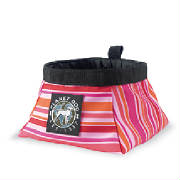 Traveling with pets is all the rage and these are designed for dogs on the go. Our foldable, crushable bowls are 100% waterproof. Works at the beach, on the trail or at the park.
Holds 2.25 quarts
Poly-canvas with waterproof lining.
Machine wash cold, gentle cycle. Air Dry.
Planet Dog Large Travel Bowl---------------------------------------------$8.75
Canister Treat Big Head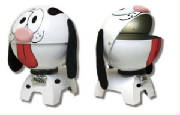 Canister Treat Big Head-Made of Metal and mesures 9"x 6.5"x 7.5 and holds 18 oz. of treats (not included)
Canister Treat-----------------------------------------------(originally$18.99) ON SALE $9.99