In Loving Memory.........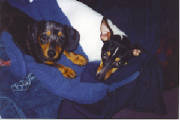 Nikki and Zoey
Nikita & Zoey
We love you and miss you very much Nikki.
Kasia has carried on your legacy of chewing the fuzzies off tennis balls and stuffed toys.
REST IN PEACE NIKITA & ZOEY!!
This is a picture of Pugsly she was 4 in this picture. She was my everything she got cancer in March and she died on Memorial Day. I miss her so much she really was my baby girl. She was my daughter. This picture is of her last Christmas in her Christmas collar.
She truly was my Princess even if for a short time. I cannot wait till I am with you again! Just remember that you are safe now and we will always love you!
To be needlessly thrown aside because of your breed. I was not loved till I came into my new families home. Then I had so much love I did not know what to do with it all. All I had to do was roll over and they would scratch my belly, WOW just like that I never knew it was that easy. At least I got to learn that there are people out there that love me because I am who I am. Amazing how a small set of eyes can tell a long hard story. Next time you turn away turn back around and listen to them.
This is our baby Kuzco (boxer/beagle). He left for his journey to heaven
Dec.12,06. We miss him more than anyone could ever believe. He loved
riding motorcycles, or the 3 wheeler, or the lawnmover, or anything else
that went, and loved singing to our son playing the harmonica. He didn't
mind dressing up in lil doggie clothes, for halloween 06' he was a pimp!
He was so addorable! We miss him very much and know hes watching over us.
We love you Kuzco Rusco! Chester and Lighting send puppy kisses too.